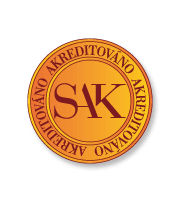 All employees of UVN - Military University Hospital are in their work primarily focused on providing high quality medical services provided safe way in secured environment.
All quality improvement initiatives were crowned in 2004 when our hospital as the first medical facility in Central and East Europe reached the accreditation of Joint Commission International (JCI).
Currently the quality processes are guaranteed based on outsourced accreditation of a Czech auditing body (Spojena akreditacni komise). Following quality and safety matters on daily basis is the main work content of Department of quality.